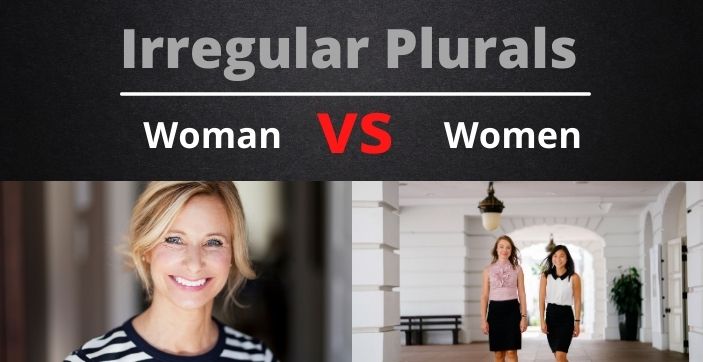 There's one apple. There are many apples.
When making something plural in English, we simply add an s to the noun.
A noun is a person, place or thing.
I have one phone. I have two phones.
What about for words like library, bench, leaf, woman, deer, or media? Could you just add an s to make them plural words?
Nope, unfortunately, it doesn't work like that for all nouns!
There are some spelling patterns with nouns with specific endings, and there are also irregular plurals.
Plural Noun Spellings
Nouns Ending in Y
First, let's look at spelling patterns. If a word ends in a -y, we usually write the plural with -ies.
For example,
one library, two libraries
one cherry, some cherries
one lady, many ladies
one baby, ten babies
one enemy, many enemies
Nouns Ending in CH, SH, S, X or Z
If a word already ends in -ch, -sh, -s, -x or -z, then we add -es.
For example,
a bench, some benches
a bush, some bushes
a bus, some buses
a fox, some foxes
a quiz, some quizzes
Nouns Ending in F
If a word ends in f, then we usually change it to ves.
For example,
one leaf, some leaves
one thief, some thieves
one wolf, many wolves
one knife, many knives
one life, many lives
Irregular Plurals
Now, let's look at some irregular plurals. It's important to learn these because it can really make you stand out if you use them wrong.
Some nouns cannot be made into plurals just by adding an s, es, or changing f into a ves.
Here are some common nouns which language learners often find challenging in the plural form.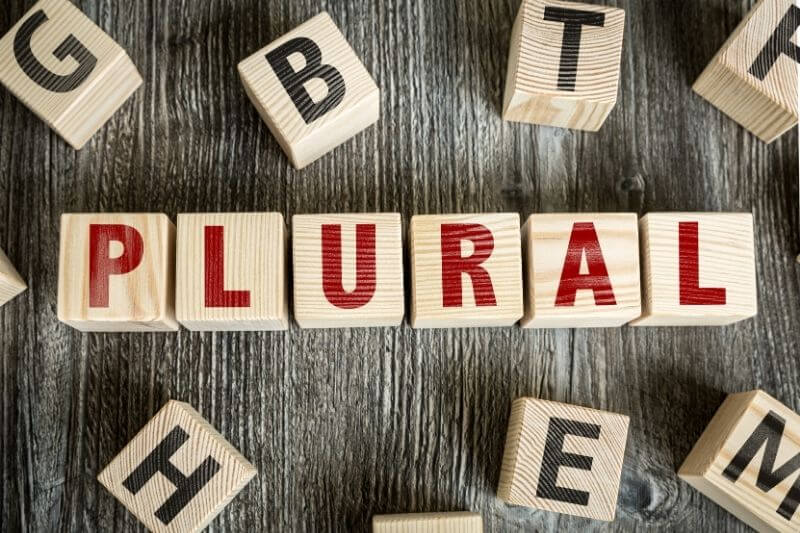 Woman – Women
One woman, two women.

The most important thing here is the change in pronunciation. In the plural form, women, the o changes to make a sound like the i in fish.
Women is probably used more frequently than woman, and as a result, some learners might say womens for the plural form.
This however, would actually be women's, meaning something belonging to a group of women. For example,
These are women's shoes. The shoes belong to women.
Child – Children
Similarly, we have one child, multiple children. Here, the first vowel sound changes again.
The i in child is long, like in smile. In children, it's short like fish.
Again, if you say childrens, it would be children's, and would refer to something belonging to the children.
I have one child. These are the children's books.
Person – People
People is the plural form of person. It's not incorrect to say persons, however, it's quite unusual nowadays.
There's one person. There are many people.
Man – Men
Men is the plural of man.
There was a tall man. There are many men here.
Fish – Fish
Talking of fish, the plural form of fish is fish. You can, on occasion, use fishes but only if you're talking about different types of species of fish.
Sheep – Sheep
Usually though, we use fish for both the plural and singular. It's the same with sheep, and also for deer.
one sheep, two sheep
one deer, two deer
If you wanted to make it clear that it was more than one fish, sheep or deer, you could use a quantifier such as a few, or some.
If you're talking about a group, you could also use a school of fish, a flock of sheep or a herd of deer. In this case, words like school, flock, herd all means a group, and there are other words that means "group" for different animals.
Tooth – Teeth
Lastly, let's have a look at a couple of body parts. We have one tooth, multiple teeth. You brush your teeth, not your tooth!
A tooth fell off. All my teeth are healthy.
Foot – Feet
With a similar vowel change, we have feet. One foot, two feet.
I hurt my foot. My feet are sore.
Can You Remember Them All?
Unfortunately, there isn't really a pattern you can follow here – that's why these are known as irregular plurals!
I recommend that when you learn a new word, you check the plural form. If it's irregular, write it down in your notebook in both forms.
Make it clear which is singular and which is plural. I'd also suggest checking to see if the pronunciation changes, just like with women and children.
These might seem like quite small things, but mastering these will help you develop your language skills even further, and help you sound more natural when you speak.