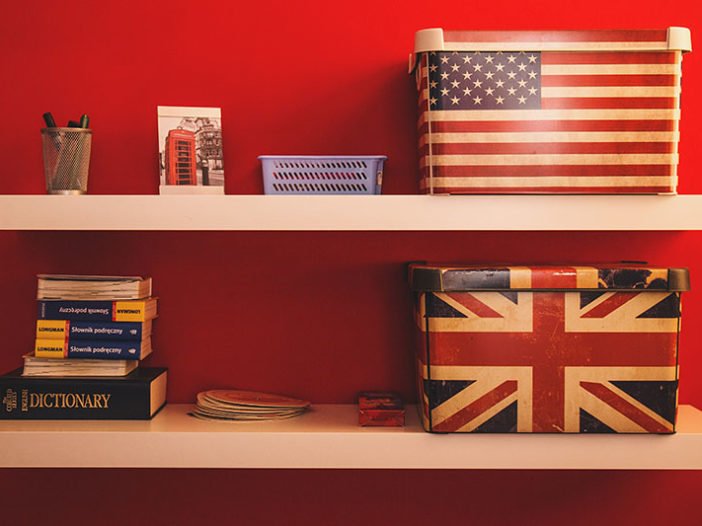 While we speak the same language in the United Kingdom and the United States, there are huge variations in accent, grammatical usage, spelling, and vocabulary.
In this post, we'll look at some examples of vocabulary related to food and cooking which is different in the UK and the US and which can cause confusion. 
Let's start with food. 
American vs British English: Food
UK: aubergine

US: eggplant
That's the large purple vegetable, delicious when roasted.
UK: courgette

US: zucchini
This is a dark green vegetable which looks like a cucumber. 
This is a red/purple vegetable you often eat in salad. Anything it touches also turns purple.
UK: coriander

US: cilantro
This is a green herb which some people claim tastes like soap.
UK: chickpeas

US: garbanzo beans
Chickpeas and garbanzo beans are the same. They are ingredient used for making hummus.
UK: fish fingers

US: fish sticks
Fish covered in breadcrumbs in a rectangular shape are known as fish fingers in the UK. In the US, they're known as fish sticks. Children quite often ask "why are they called fish fingers?" so perhaps fish sticks actually makes more sense here!
The UK's most famous dish is fish and chips. Chips in the UK are hot potatoes fried in oil. In the US, this delicious form of potatoes is known as fries.
Chips in the US are cold, often bought in a plastic packet and eaten as a snack or maybe with a dip. In the UK, we call these crisps. 
Moving on to something sweet. Biscuits in the UK are sweet and often eaten with a cup of tea. They're known as cookies in the US. In the UK cookies are a specific type of biscuit, and they have chocolate chips or chunks inside, whereas in the US a cookie refers to any type of (British) biscuit. A biscuit in the US, however, is a savory item eaten with the main meal. So next time you hear somebody is eating "biscuits", make sure you know whether they're referring to British or American biscuits – they're very different things!
In the US, candy is used as a generic term for a sweet food made of chocolate, sugar or fruit. In the UK, we have chocolate and sweets. Chocolate bars aren't described as sweets but they would be candy in the US. Sweets, in the UK, would be something like Haribo, or fruit-flavored hard 'candy'. 
American vs British English: Cooking
Let's stay in the kitchen and have a look at some differences in vocabulary there.
As well as trash, in the US they use the word garbage. Trash refers to dry products, and garbage to wet products and food waste.
You might have seen in many American movies they have a garbage disposal in the sink to get rid of this waste. In the UK, we call this wet or food waste compost and it is put in a special bin in the garden, later to be used as manure.
Rubbish goes in the bin, whereas trash goes in the trash can. Garbage goes in the garbage disposal and compost goes in the compost bin or food waste bin.
UK: tea towel

US: dishtowel
If you want to dry your dishes, then in the UK you'd use a tea towel. In the US, you'd use a dishtowel. 
Before you can dry your dishes though, you need to wash them. In the UK you turn on the tap to make the water come out, in the US you have to turn the faucet. 
Some food comes in metal containers, for example, beans. This is a tin in the UK and a can in the US.
So, next time you cook a meal or eat out with an English-speaking friend, listen out to whether they use British English or American English phrases.
See if you can use some yourself! My advice would be to choose whether you want to learn British or American English and stick with one or the other.
British people will generally understand you if you use American English vocabulary and slang thanks to the number of American films and TV series we have here.
So good luck, and happy cooking!